Mountain Fretwork Panel
Bring an alpine vibe to your space with these mountain pattern fretwork panels and turn your cupboard doors or surfaces into a talking point!!
Our pricing structure is dependent on your specific size requirements.
As an example:
150 x 150 mm = £ 10.00
600 x 600 mm = £ 50.00
Please enter the exact dimensions you require in the boxes below and we will send you quote.
---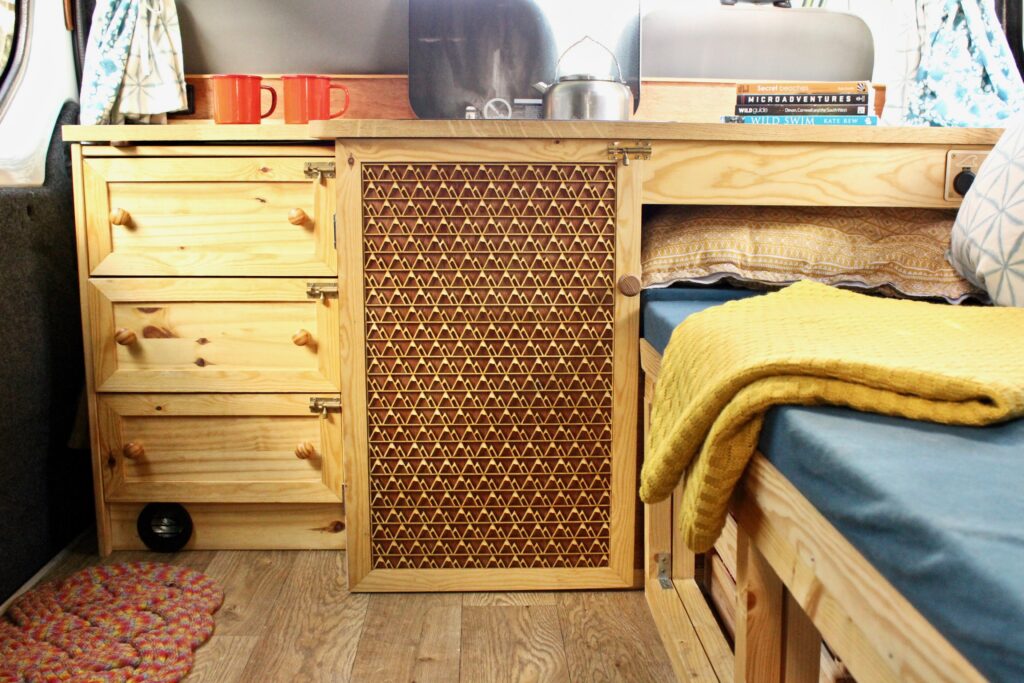 Designed with van and boat life in mind, these panels are cut from FSC registered Birch ply. They are extremely lightweight, and fully customisable to meet your size requirements.
Additional Information
Included in your purchase will be:
Untreated 3mm birch ply Fretwork panels
Our fretwork is intricate and therefore delicate, so depending on the size of your panel, we may send it to you in sections (with instructions on how to install them) thus minimising the risk of damage in transit. The panels may may vary slightly in colour tone due to natural differences in wood grain/colouration.
Prior to purchase, please check that the panels will adhere to the surface you are applying the fretwork to. If the panels arrive slightly warped, this is normal, we recommend clamping during the gluing process. Please apply the panels with your chosen adhesive. To maximise longevity, we advise sealing the front/side surfaces of the fretwork.
If you decide to use the fretwork as an a open cupboard fronting, please be aware that the cupboard should not be used to retain heavy loads. If you would like fretwork made out of thicker ply for increased rigidity, please contact us.
Unfortunately, we are unable to offer refunds for custom made products so please ensure you double check your measurements when submitting them.
Have something else that you would like to use the fretwork for? Please get in touch, we'd love to make it work for you.
© 2021 – Laser and Grain